CBG Oil (1200mg)
Sale price
$89.00
Regular price
$0.00
Unit price
per
For nerve and brain function
Contains approx. 250 drops (5mg CBG per drop)
Suitable for microdosing up to standard dosage
US delivery: 3-5 Business Days
Details

Our 12% CBG Oil is ideal for those who have already tried and love CBG. The 10mL bottle contains hemp seed oil, terpenes and 1200mg of CO2-extracted CBG. A bottle of our 12% CBG Broad Spectrum Oil contains 250 drops with 5mg of CBG per drop. This CBG oil consists of all-natural ingredients, is vegan, gluten-free and contains no artificial preservatives or colorings. It is equipped with a glass pipette for easy and hygienic dosing.
Ingredients

Organic Hemp Seed Oil
Cannabigerol (CBG)
Cannabidiol (CBD)
Suggested use

Shake gently before use. This 12% CBG oil is best absorbed sublingually. Drop desired dose under tongue, hold oil in mouth for 60 seconds, then swallow remaining product. The recommended daily dose for this CBG oil is 1 drop three times a day. The maximum daily dose of 10 drops of CBG oil 12% must not be exceeded. Visit our dosage guide for tables and videos
Safety instructions

The product must not be used during pregnancy or breastfeeding. Keep out of reach of children.

Please note that this product may interact with certain medications and psychotropics. For detailed information, please contact your doctor or pharmacist.

The content provided is for information and education only and in no case replaces medical advice from a doctor or pharmacist. Our texts are not intended for the independent diagnosis and treatment of diseases.
Storage

Store the CBG oil (12%) in a dry place and at room temperature. Avoid exposure to heat or sunlight. Keep out of reach of children. Use within 6 months after opening. See packaging for best before date.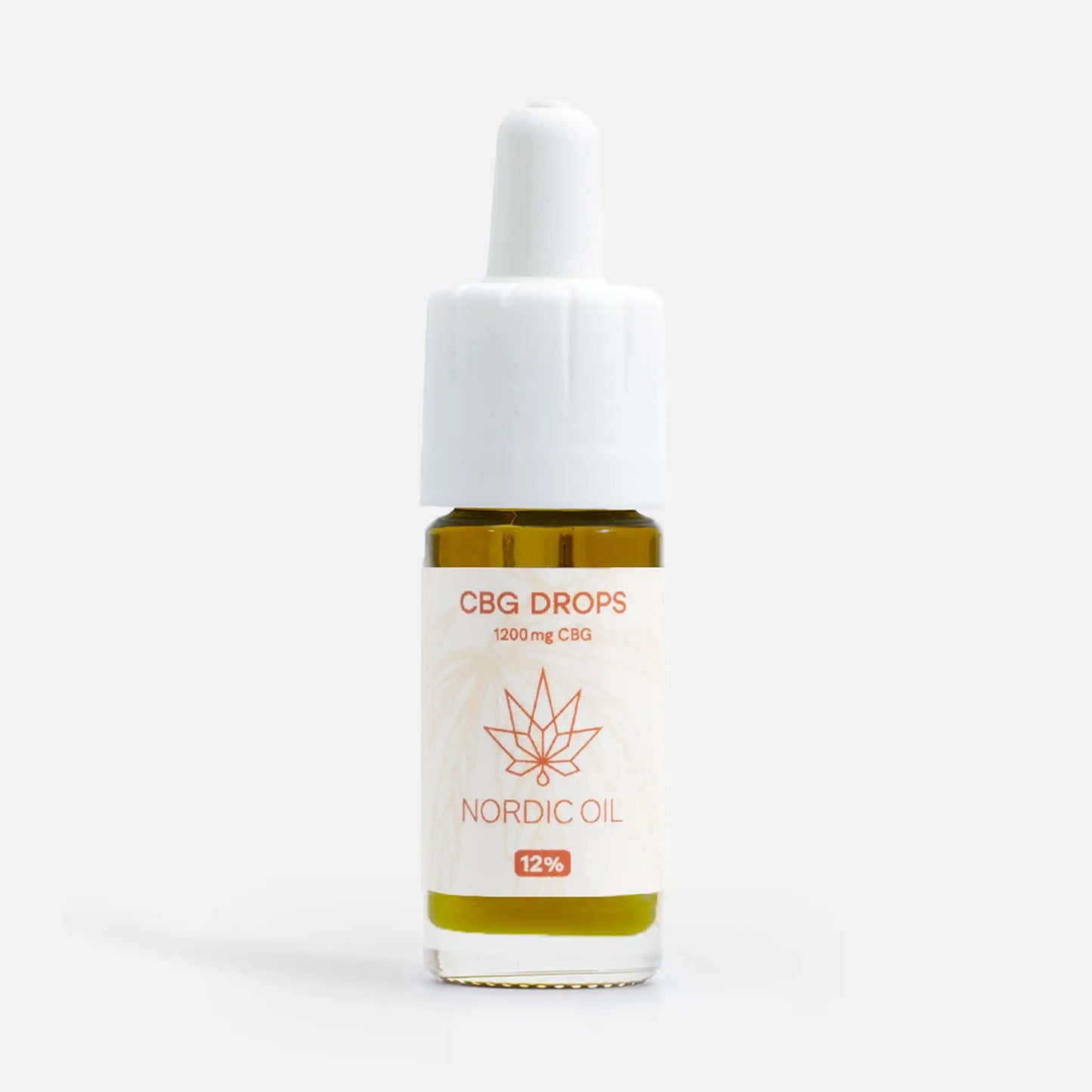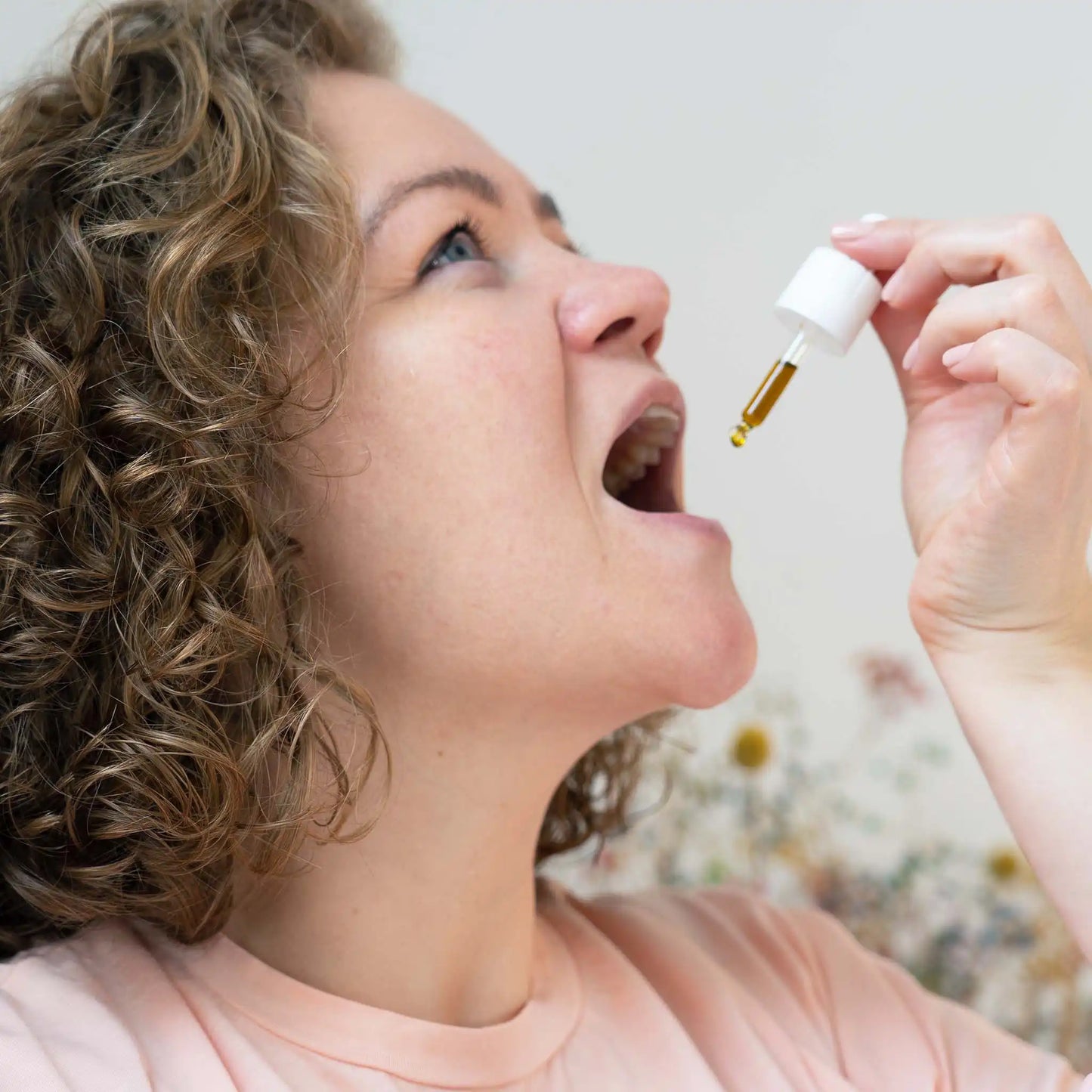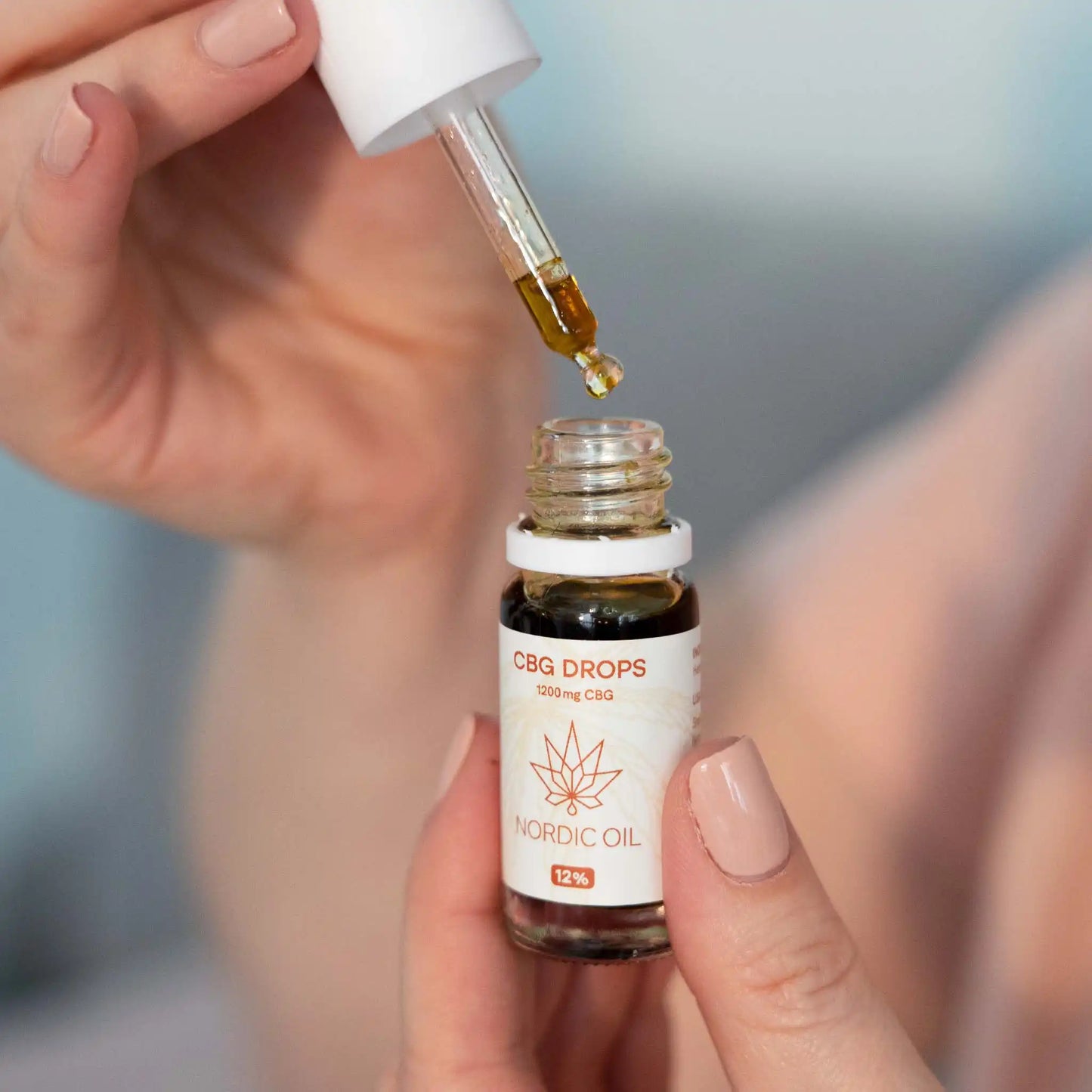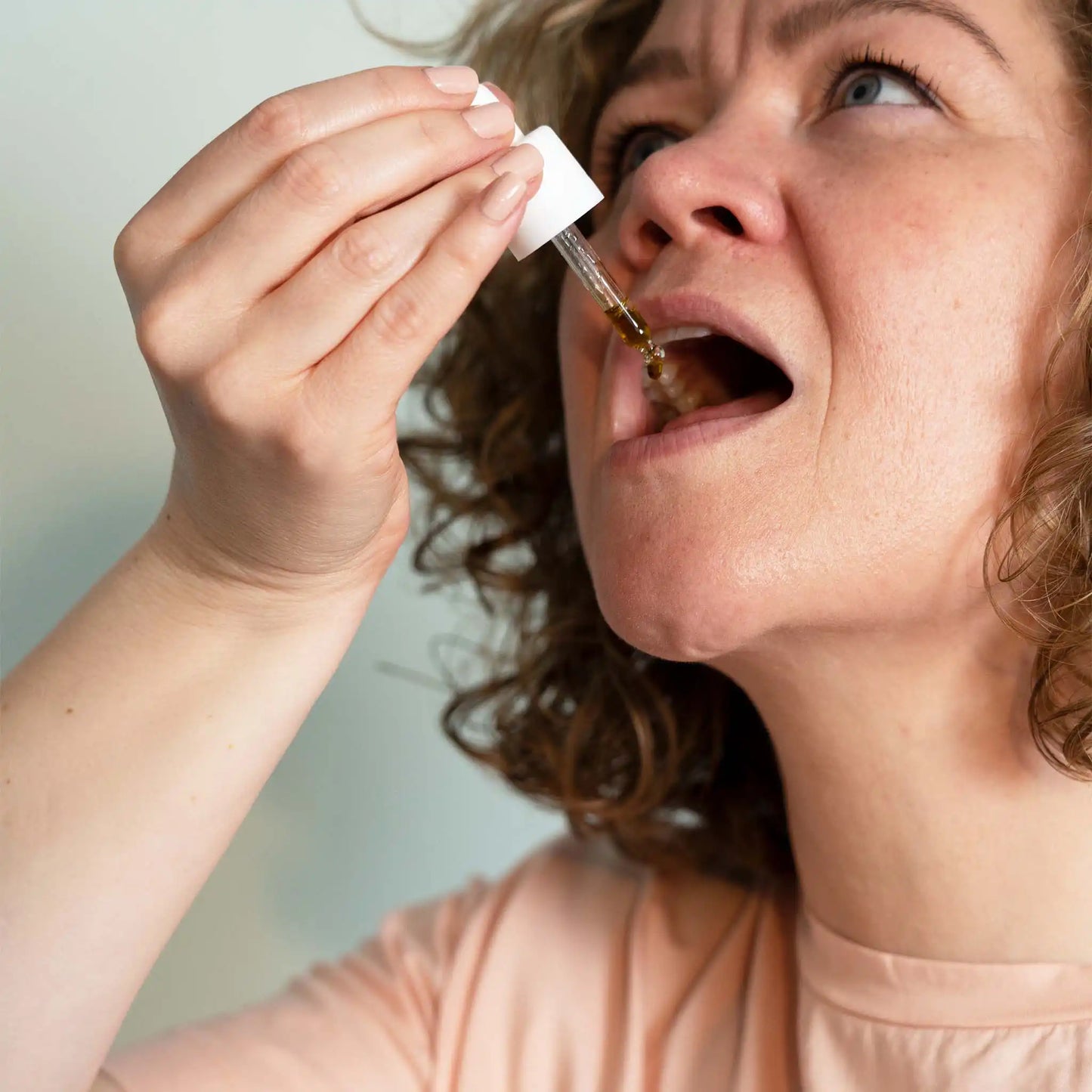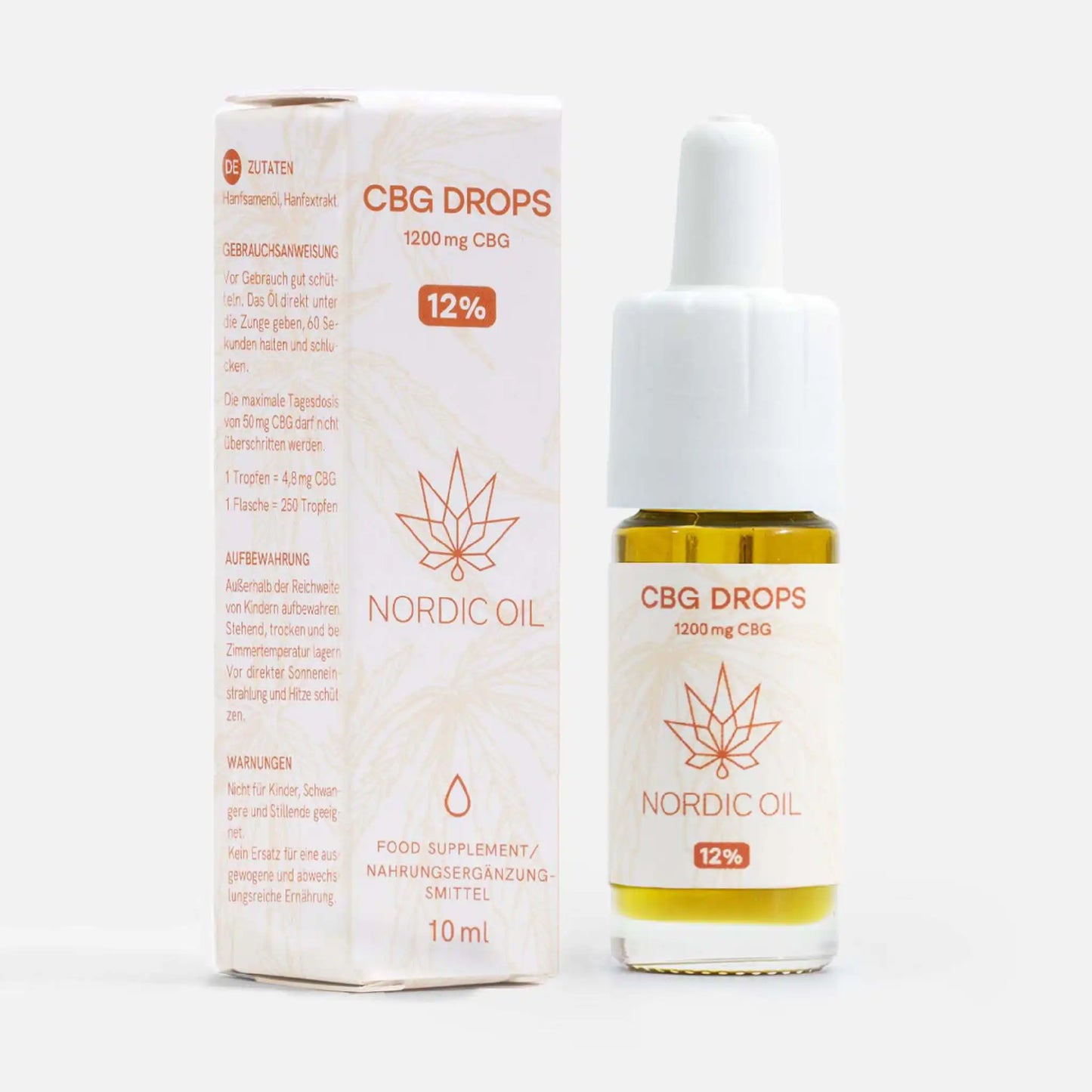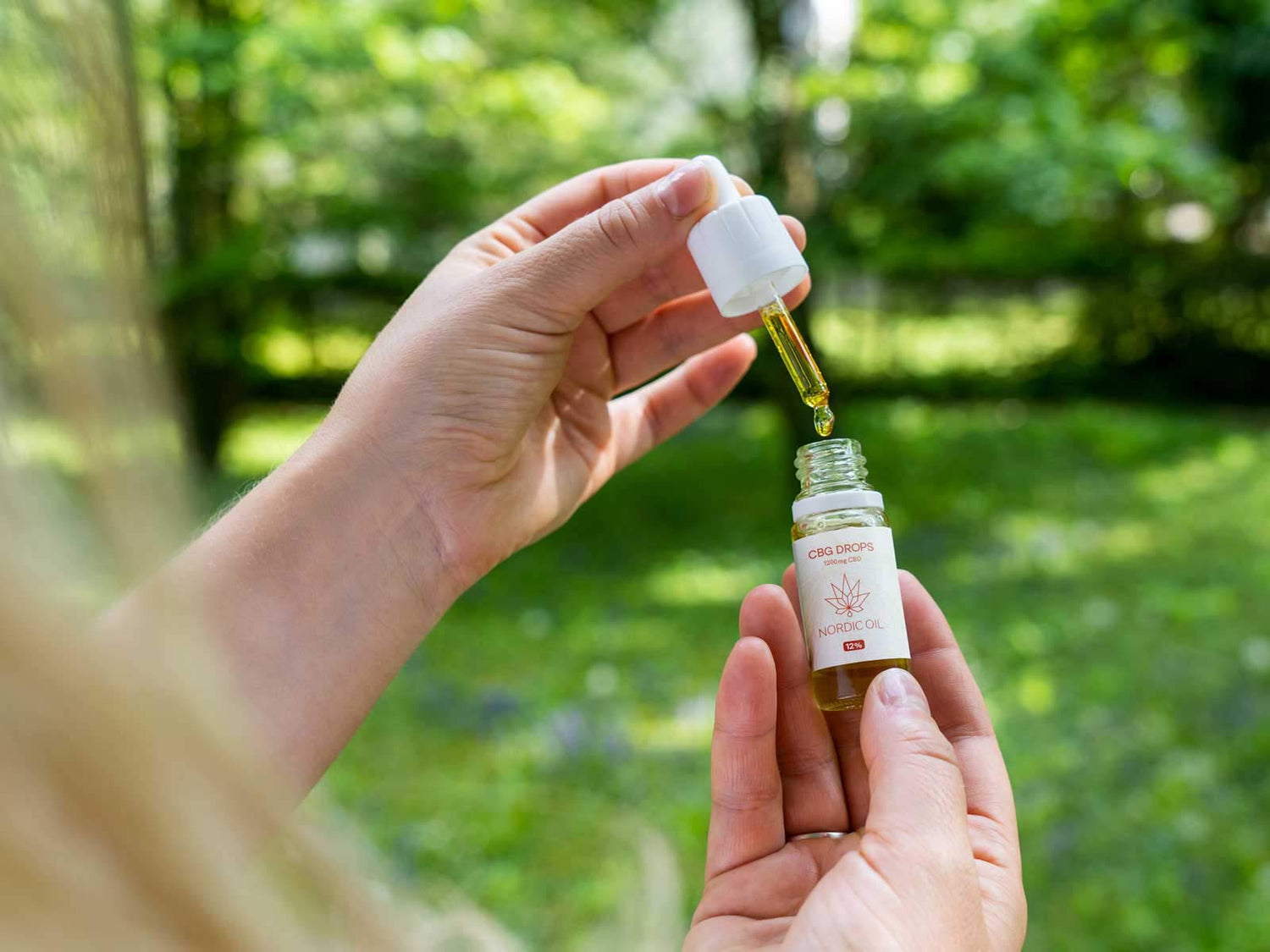 Premium CBG Oil 12%
Our 12% CBG oil is suitable as an alternative or supplement to CBD oil. It contains both CBG and CBD and is specifically designed to protect nerves.
Suitable for:
stressful days
nerve and brain function
wellbeing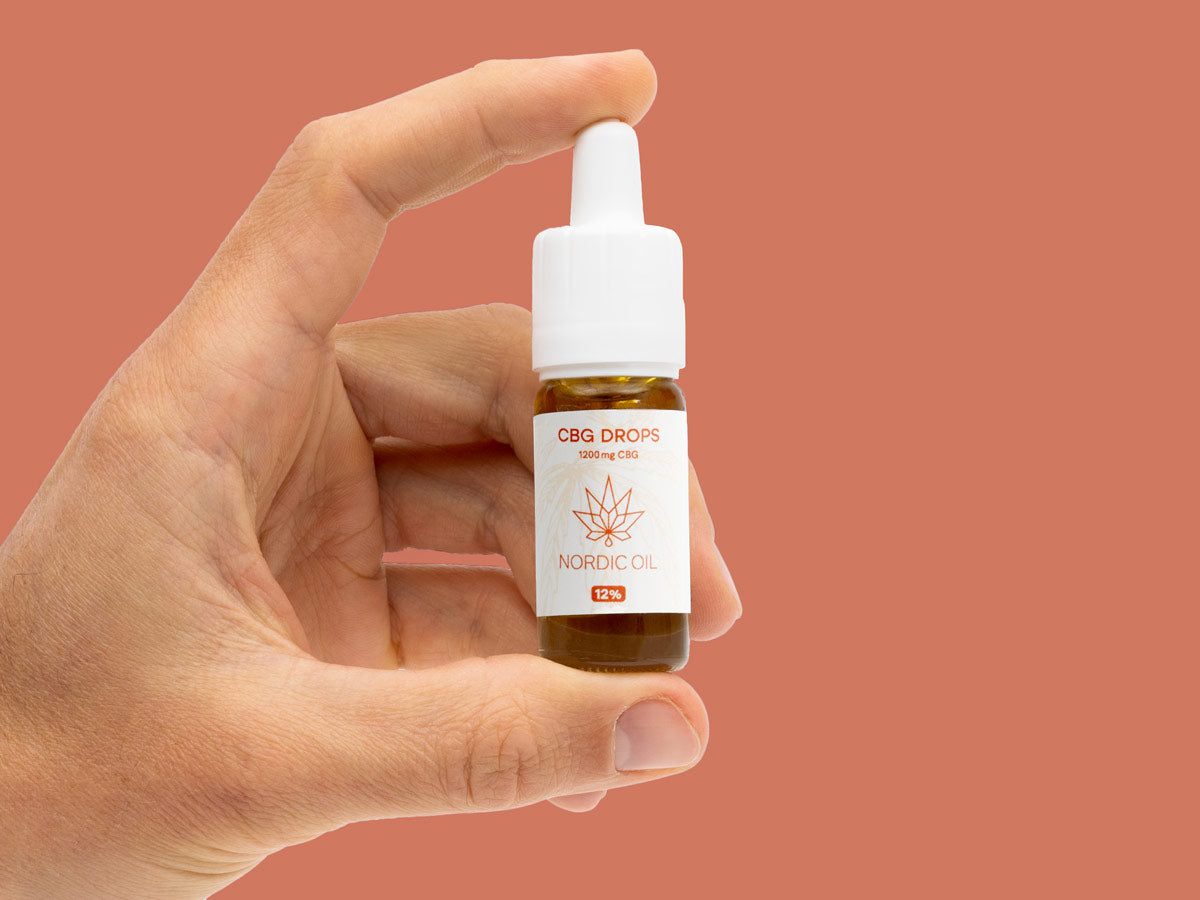 How is CBG Oil 12% used?
Usage instructions:
To open, push and hold down the child-safety cap whilst twisting it counterclockwise.
Gently shake before opening. Gently squeeze and release the end of the rubber dropper. The dropper will fill about halfway.
Dispense 1-3 drops directly under the tongue. To preserve the quality of your CBG oil, avoid touching the dropper with your mouth.
Hold in your mouth for 60 seconds before swallowing. If you don't like the taste, we recommend mixing your oil into your favorite food or drink.
When dosing CBG oil, we recommend the step-up method. This means that you start with a small amount and increase the dose accordingly until you get the desired results.
If you take 3 drops per day, the oil will last for about two and a half months.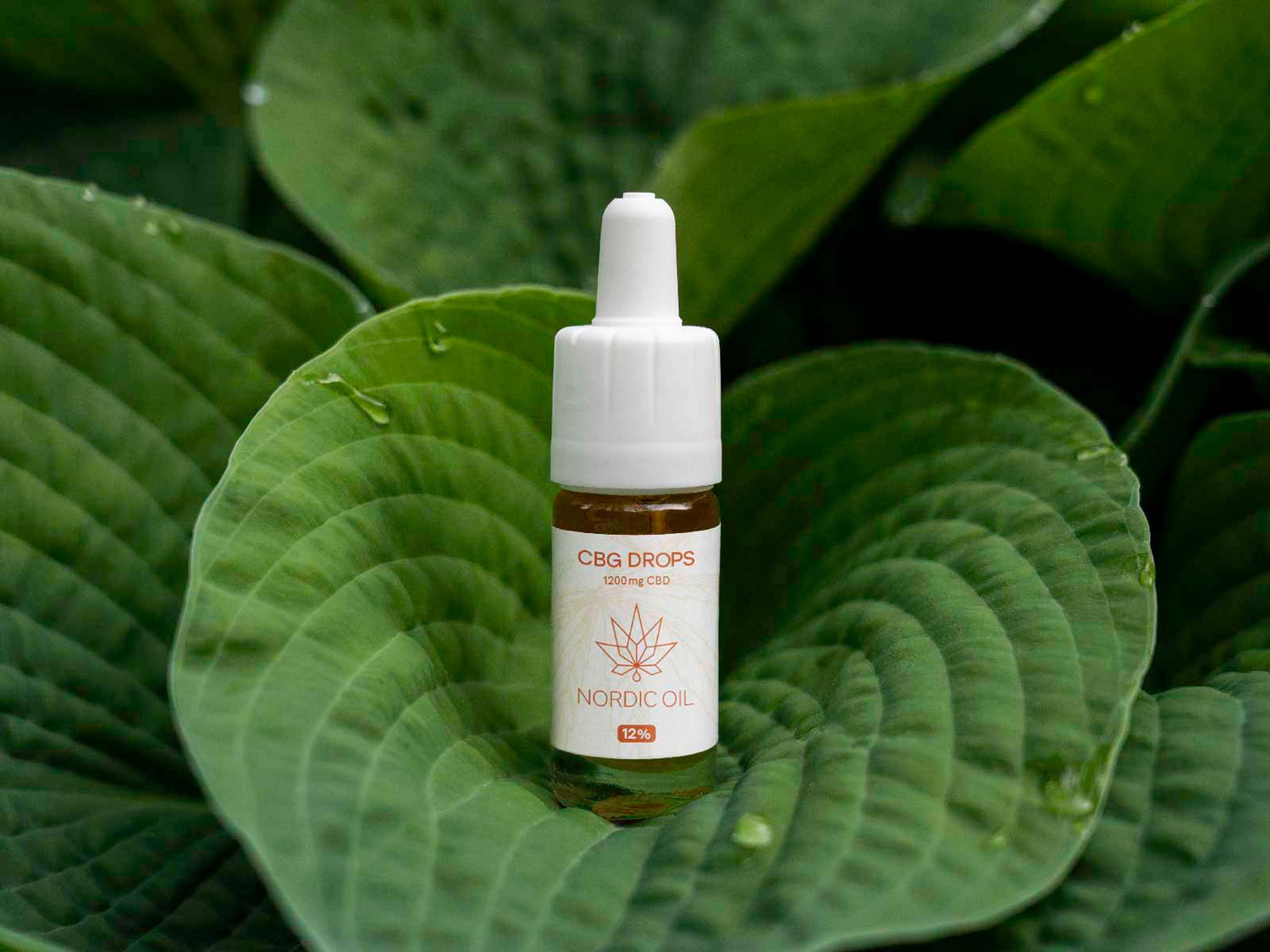 Our CBG oil 12%
| | |
| --- | --- |
| Extraction | CO2 |
| Cannabinoids | 1200mg CBG; 500mg CBD, <0,02% THC (non-detectable) |
| Carrier oil | Organic hemp seed oil |
| Spectrum | Broad spectrum |
| Hemp Origin | Netherlands |
| Properties | Vegan, alcohol-free, gluten-free, sesame-free, nut-free, soy-free |
FAQs
What is CBG oil?

CBG stands for cannabigerol and is one of the most essential cannabinoids contained in the hemp plant. The CBG hemp extract does not cause psychotropic effects. Since both CBG and CBD are fat-soluble, they are mixed with carrier oil for optimal absorption.
What is the difference between CBD and CBG?

CBG is the primary cannabinoid that the plant produces. Other cannabinoids such as THC or CBD are produced from it. The research around Cannabigerol is still ongoing, but initial research indicates there could be great benefits of CBG.
Is CBG oil legal?

Yes, CBG oil is legal because the oil contains less than 0.2% THC and it is non psychoactive. In the US you can freely purchase different CBG products.
How is CBG produced?

CBG, like CBD, is produced using a supercritical CO2 extraction. In this process, it is possible to accurately regulate which ingredients are extracted from the hemp plant and in what quantities. What remains is a precisely engineered extract of natural compounds without any harmful chemicals.